Coucou les filles!
Me voilà ENFIN auprès de ma famille après quelques mois d'attente. Un retour aux sources qui va me faire des plus grands bien, en Vendée d'abord puis ensuite en Bretagne! Le soleil est au rendez-vous, c'est génial :)
Il y a maintenant un mois environ, j'avais envoyé ma participation au concours facebook de la page Make Up Your Nails sur le thème du printemps.
J'y avais passé du temps puisque j'ai commencé par une base en gel, remplie de paillettes, elles-mêmes recouvertes de gel pour avoir une jolie base... Tout ça sur 5 capsules. Puis j'ai dessiné mes fleurs à la peinture Oumaxi et au pinceau de détails. J'ai adoré le résultat et j'ai envoyé ma participation au tout début du concours (il durait un mois si ce n'est pas plus, je ne m'en souviens plus).
Puis les autres participations sont arrivées... Et là: OUPS! Les Nail Art étaient plus beaux les uns que les autres, vraiment! Et d'ailleurs, un grand bravo à tout le monde!
Le vendredi 3 mai, me voilà parti pour 10 heures de voyages. Arrivée à destination je jette un oeil vite fais sur facebook. J'avais un message perso: "BRAVO TU GAGNES LE PRIX DU JURY" J'ai halluciné! Pour moi c'était déjà perdu d'avance! Comme quoi...!
Alors merci! Merci à l'organisatrice du concours, la page Make Up Your Nails, merci au jury, et merci aussi à ceux qui ont voté au j'aime sur ma photo!!!
Voilà ce que ça donnait en photo!
Hello girls!
I'm FINALLY here with my family after a couple months of waiting. A homecoming that will make me feel really good, in Vendée first and then in Britain! The sun is shining, it's great :)
There is now about a month, I sent my participation in the Make Up Your Nails facebook competition on the theme of spring.
I spent time on it since I started with a base gel, filled with glitter, themselves covered with gel to have a pretty basic ... All this on 5 tips. Then I drew my flowers with OUMAXI paint and a detail brush. I loved the result, and I sent my participation at the beginning of the competition (it lasted a month if not more, I do not remember).
Then came other participations ... And then: OOPS! The other Nail Art were really beautiful! Besides, a big BRAVO to everyone!
Friday, May 3th, I was off for 10 hours of travel. When I finally arrived I looked quickly on facebook. I had a personal message "BRAVO you WIN THE JURY PRIZE" I hallucinated! For me it was already doomed to failure!
So thank you! Thank you to the organizer of the contest (Make Up Your Nails), thank you to the jury, and also thank you to those who voted for my picture!
That's what it looked like in the picture!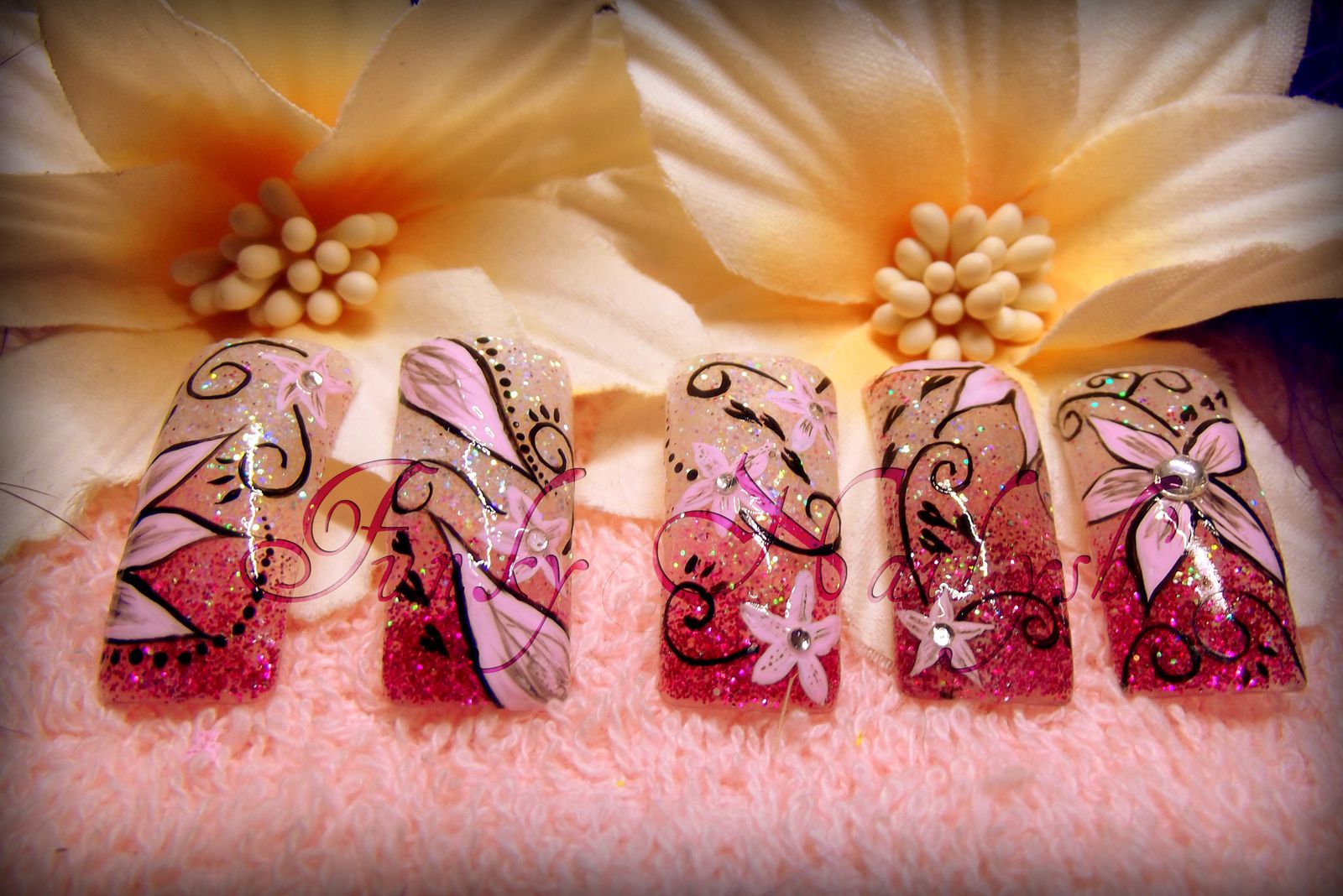 RECHERCHE MODELES ( participation aux frais de produits et machines ) Mains 25 euros pose complète...